Types of Racing
Lapping

Wheel-to-wheel competitive racing (including ice racing)

One-car-at-a-time/TimeAttack (timed sessions)

Slalom racing/Autoslalom (parking lot venues)

Go-kart racing
Requirements:
Lapping

For the best experience, a driver should first attend several of our Racer Development courses to learn high performance driving skills. Events are held at race tracks and drivers are allocated to run groups that last for approximately 20 minutes, on a rotational basis, for the day.
Wheel-to-Wheel Competitive Racing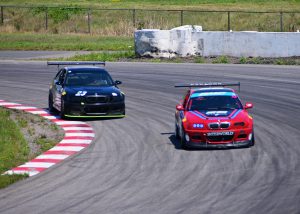 There are classes for anything with wheels and a motor, . . . . . . including go-karts!
Events are held a race tracks, usually over a weekend with various classes, and a Sanctioned Road Race Licence is required. See how to get your Road Race Licence below.
One-Car-At-A-Time (Ontario TimeAttack)

Events held at race tracks with the competition portion having no cars near each other. Timed sessions are usually three laps in duration.
Stock road cars can be used; however, those with modifications are handicapped on a point system and all cars are put into classes.
Drivers must have lapping experience (see above) or can receive training by OTA (as available). Drivers with acceptable credentials to OTA will then be "observed" and  must be "signed off" in order to receive a Class TA Licence to participate. Approved helmets and membership in a CSAC-OR affiliated club is required. For details, visit https://time-attack.ca
Slalom Racing (Ontario Autoslalom)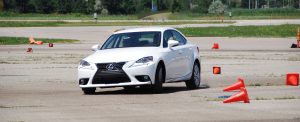 Events are hosted by several CASC-OR affiliated clubs in parking lot locations and you are timed driving through a designated course outlined by pylons. A road-worthy car, which will be assigned a class, and a helmet are required. For details, visit https://www.casc.on.ca
Go-Kart Racing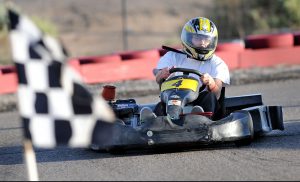 For Ontario, you must be a member of a CASC-OR affiliated club and satisfy the requirements for the kart and personal equipment.
For drivers looking to transition into road racing (typically F1200 or F1600), there are some provisions that are outlined below.
Road Race Licence – How to get one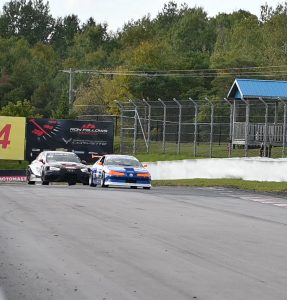 Drivers, ideally, should have lapping experience, as noted above, before attending a sanctioned race school in order to have the best outcome. Brack Driving Concepts is one of 2 sanctioned ASN race school in Ontario.
Those with TimeAttack and/or Autoslalom experience, should augment their skills with one or two of our Racer Development courses, in order to assist them in the transition to road racing.
Go-kart drivers that are 15 years old must successfully pass an ASN racing school to apply for a road racing licence, while older karters follow the normal application requirements.
There are several requirements in applying for a Road Race Licence outlined in the Race Regulations which are:
You must be a member of a club affiliated with a provincial authority. In Ontario, CASC-OR is the provincial body, so one would need to be a member of one of their clubs.
You must complete the provincial body race licence application, which includes:

Successful completion of a sanctioned race school

Attending a classroom program, passing a written test, in-car coaching and passing in-car observation

A race medical (on form provided in application materials)
A passport-sized photo
Evidence of the Club you are a member of
Copy of a valid Provincial or State road licence
Their race licence fee
What Other Requirements?
Race car
must comply with the regulations for the class of car (open or closed wheel) you will be racing (e.g. roll cage design, seat, seat belts, etc.).
For either open or closed wheel cars individuals can either build their car, buy a compliantly-built new or used car, or rent a car (arrive and drive).
Driver equipment
must have clothing, helmet, neck restraint, etc. in compliance with the regulations.
Other
tow vehicle and trailer
a helper or two to assist you at the track