Words from Bryson Lew and Tomas Mejia, the youngest duo EVER in the GT4 America Series!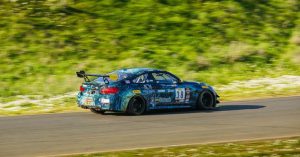 5 March 2021 – GT4 America. This weekend at the Sonoma Raceway in California, Bryson Lew and Tomas Mejia are set to make history with ST Racing by becoming the youngest duo ever to compete in the GT4 America Series. Though the two 17-year-olds have only just stepped into the professional car racing arena, their success and speed hitherto, as well as their pseudo-tangible passion for motorsport, more than belies that young age. 
TC America would prove the biggest hurdle yet for both Tomas and Bryson though in 2019 and 2020 respectively. Their first taste of a truly professional racing series – one operated by SRO, no less – was at the wheel of a MINI Cooper JCW and a BMW M240i Racing Cup respectively at some of the most lauded racing facilities in North America. Though steep, a vertical learning curve proved little more than a speed hump for the young teens.
Tomas – "Going into it, I knew I had the basic knowledge down from go-karting. I knew how to drive the car, use the right lines, etc, but it was still a pretty sharp learning curve. When I first got in the MINI, everything felt so different: the suspension moved in a different way, the car was heavier than I was used to, and now I had a roof! It took me a while to realise that the limit of the [Cooper JCW] was actually way beyond what I first expected. So the transition was difficult for me at first but was still something I was able to grasp quite quickly." 
Bryson – "Compared with formula cars, obviously the BMW was a lot heavier, and I quickly learnt that tire management is extremely important: if you don't have the grip, the car's just not going to handle. Remember, I didn't have any sports car experience before that, so doing those seven races in 2019 was really helpful to get me up to speed."
Bryson – "2020 was a really important year just based on how much I learnt! I jumped into the sports car and the brake pedal was extremely soft, whereas in formula cars, everything is set up really stiff. I almost had to forget a lot of my driving style so I didn't go as deep into the corners as I was used to! So it really taught me how to drive a sports car properly. Taking those podium finishes at Sonoma was a big moment too. It proved to a lot of people that, yeah, I'm young, but I'm still fast enough to be at the front in whatever I compete in."